8 Essential Ways Lawyers Can Leverage Local SEO, Including Google Business Profile Optimization, to Boost Leads
The best law firm marketing includes a strong online presence and is paramount to the success of top law firms. Lawyers can effectively utilize local SEO (Search Engine Optimization) strategies to enhance their visibility, particularly by optimizing their Google Business Profile. In this article, we will delve into eight crucial ways local SEO, including Google Business Profile optimization, empowers lawyers to attract more leads.
1. Enhanced Local Visibility
Local SEO revolves around bolstering a business's presence in a specific geographic area. For lawyers, this means making their online content more discoverable in local search results. When individuals seek legal assistance within their local vicinity, local SEO ensures that the law firm's website and contact information are prominently featured on the Search Engine Results Page (SERP). This increased local visibility is indispensable for connecting with potential clients who prefer to work with a lawyer in their proximity.
Google My Business (GMB) is a vital tool in achieving improved local visibility. Lawyers should claim their GMB listing and provide accurate, up-to-date information about their practice. This ensures that when individuals search for local legal services, they can readily access your firm's contact details, location, and reviews, making it easier for potential clients to reach out.
2. Targeted Keywords
Keyword optimization is at the core of SEO. Lawyers can reap significant benefits from local SEO by employing targeted keywords relevant to their legal practice and their geographical location. By conducting research and incorporating specific keywords pertaining to their area of expertise and service region, lawyers can effectively connect with clients actively searching for their services.
For instance, a family lawyer in New York City could optimize their website with keywords like "New York City divorce attorney" or "child custody lawyer in NYC." This strategy empowers them to compete more effectively in local search results and attract potential clients actively seeking legal services in their area.
3. Content Marketing
Content marketing is a foundational element of SEO that allows lawyers to establish authority and credibility in their field. By creating informative and valuable content related to their legal practice, lawyers can educate their audience and improve their website's visibility in search results.
Generating blog posts, articles, videos, and other content addressing common legal questions and concerns in their local area can attract potential clients. By providing answers and solutions to these issues, lawyers position themselves as knowledgeable and trustworthy experts. This, in turn, leads to greater visibility and increased leads from individuals seeking legal guidance.
4. Google Business Profile Optimization
Optimizing your Google Business Profile is pivotal for lawyers. When potential clients search for legal services on Google, the information provided in your GMB listing is often the first impression they have of your firm. Ensure that your GMB listing is complete, accurate, and engaging.
Upload high-quality images of your law firm, add concise yet informative descriptions of your services, and include relevant keywords. Encourage satisfied clients to leave reviews and respond professionally to both positive and negative feedback. An optimized GMB listing not only boosts your local visibility but also fosters trust and credibility, attracting more leads.
5. Online Reviews
Online reviews play a significant role in local SEO for lawyers. Positive reviews can greatly influence a potential client's decision to choose your law firm. Encourage satisfied clients to leave reviews on platforms like Google, Yelp, and Avvo. Positive reviews serve as powerful testimonials and encourage more potential clients to reach out.
Lawyers should actively manage their online reviews by responding to both positive and negative feedback. A prompt, courteous, and professional response to negative reviews can mitigate their impact and demonstrate a commitment to client satisfaction.
6. Local Link Building
Local link building is another important aspect of SEO that lawyers should prioritize. Building high-quality, authoritative local links to your website can significantly enhance your local SEO efforts. Local links include references and citations from local directories, legal associations, and local businesses.
Getting your law firm listed on reputable directories such as FindLaw, Avvo, and your local bar association's website not only builds trust but also provides valuable backlinks to your website, signaling to search engines that your website is a reliable source of information and potentially leading to higher search engine rankings.
7. Mobile Optimization
Mobile optimization is critical in the age of smartphones. Mobile-friendly websites are more likely to appear in local search results, as search engines favor responsive and fast-loading pages. For lawyers, this means ensuring that their websites are designed and structured to be mobile-responsive.
A well-optimized mobile site allows potential clients to access your services conveniently and quickly. In the legal industry, where individuals often require immediate assistance, being accessible on mobile devices is crucial for capturing leads.
8. On-Page SEO
On-page SEO involves optimizing the content, structure, and metadata of your website to improve its search engine rankings. For lawyers, ensuring that your website is well-organized, user-friendly, and loaded with high-quality content is essential.
Title tags, meta descriptions, and headers should all be optimized with relevant keywords. The website's content should be well-structured, making it easy for visitors to navigate and find information. Using schema markup can also help search engines understand the content on your website, potentially leading to featured snippets in search results.
Local SEO, coupled with Google Business Profile optimization, is a critical strategy for lawyers looking to attract more leads. By focusing on improving their local visibility, utilizing targeted keywords, creating informative content, managing online reviews, building local links, optimizing for mobile, fine-tuning on-page SEO, and engaging on social media, lawyers can significantly enhance their online presence and connect with potential clients in their local area. In an increasingly competitive digital landscape, local SEO is the key to growing a law firm's client base and achieving greater success in the legal industry. By optimizing their Google Business Profile, lawyers can make a powerful impact in their local market and remain at the forefront of potential clients' minds.
3 Tactics For Local Law Firm SEO
Local SEO for law firms continues to rapidly evolve. A few years ago, you could make a huge impact without links. Domain authority did not matter as much as a relevant address and strong on-page optimization.  But that was in the past and law firm SEO has advanced more rapidly than most attorneys realize.
Local SEO is now a game of many moving parts and pieces. There is no single silver bullet ranking factor, instead success is built upon a foundation of multiple key elements including;
Google My Business Signals
Link Signals
Review Signals
Relevance, Recency and Authority
So no longer building 50 local citations alone will help you rank in local search. You need to focus on the core factors that are important today. Here are a 3 key tactics to help you fine tune your Local SEO and get your law firm moving to the top of the map pack.
1. Have A Physical Address In The Target Market
As silly as this sounds, make sure you have a real physical address in the location you want to target. Without a real office address in market, if the business does not exist in that market location, the firm will not exist in the local map pack. You may have the opportunity to appear in the localized organic search results, but you won't rank in the local map pack.
2. Utilize Google My Business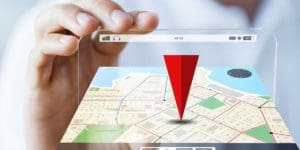 Google My Business (GMB) is where you can tell Google, and your local audience, about your law firm. Google My Business, also referred to as GMB,  is a key authority factor and is under appreciated by many law firms. Start by claiming your business profile or create a new profile if your firm is new or an existing GMB profile doesn't exist. Verification is simple and once verified, you will be able to fill the profile out with as much information as possible.
The key is to think what your prospective clients would like to see here that will entice then to engage with your firm and hire your services. A distinct and useful value proposition that resonates with potential clients must be part of your GMB profile page to maximize effectiveness. The more useful information you add here the better the results you will see. Recency of reviews and information is vital, don't forget to keep the profile fresh and up-to-date.
3.Get More Recent Positive Reviews
Getting more reviews won't help you rank higher, however reviews do play an important role when people are comparing your law firm to your competitors. Recent reviews tend to hold more value to both potential clients and search engines. Instead of bunching up a bunch of reviews, consider a slow, steady and consistent approach to accumulating more reviews. Set an achievable goal, get one or two good reviews a month, every month. Your firm will gradually start to build a trusted portfolio of reviews that displays competency and compassion with previous clients.
These three SEO tactics for law firms is only a foundation just to get you into the game. You can do everything else right with your local law firm SEO, adding local citations, utilizing GMB, and on-page SEO all 100% on point, yet to get into the top positions within competitive locations you have to build some authority and relevance. Relevant being the keyword here – the approach here would involve ensuring you have links from any and all relevant legal sites, and directories.
Local law firm SEO is a slow and steady process. not a one and done event, but is well worth the results. Best Law Marketing is here to help you with your local SEO process, let us help your firm grow.
Hyper-Local Search For Lawyers - Own Your "Backyard"
Localization of search results are a game changer for small law firms with a single brick and mortar location. Over the course of the past several years, the Google search engine result pages that display local searches have become increasingly complex and varied. What started with the roll out of Google's Blended Place Search that merged "regular" organic results with indexed local businesses from Google Places, has evolved into the Google Map Pack, Google My Business and Local Service Ads. WOW, a huge shift, but only the beginning with more to come.
Google My Business has further changed the local search game. It is imperative that local law firms pay extremely close attention to their local profile. However the biggest reason for change to the local search for lawyers landscape is being driven by the expansion of mobile and high speed internet speeds. As smartphones increase in number, their influence is being felt in the localized search engine results.  Many recently released studies point out the complexities of local search.
A report from Lindex about geo-ranking indicated that 69 percent of the time, if you rank in the top 30 for a keyword in one location, you won't rank for that keyword across all other locations.
Here are some other key findings from the Linkdex geo-ranking report:
Most affected sectors were tradesmen, restaurants and cafés, and professional services like lawyers.
As would be expected, geographical variability was highest when Google My Business pages are present in the results.
When Google My Business pages were not present, variability was still significant across head terms, long tail terms, and brand terms alike. So, geo-variability is not just about Google My Business, it's about a comprehensive local SEO strategy.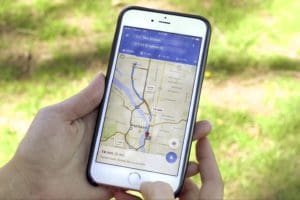 A well optimized Google My Business profile is imperative for law firms to to putting your law brand on the map. Google My Business listings display in all browsers for laptop, desktop, tablet and mobile search, maps, and the Map Pack. Your law firm brand can no longer afford to be complacent with a static listing, local search is now both dynamic and very technical.
An engaging Google My Business profile can benefit your digital marketing local SEO strategy in the following ways:
Outrank your competitors in local search.
Build the authority of your brand through user reviews.
Drive traffic to your website.
Convert more visitors into leads and clients.
Quick stats about local search use in the legal space:
72 percent of mobile search is local.
61 percent of local searches result in engagement.
50 percent of smartphone leads use a GPS/mapping app to find a law firm location.
It's no surprise that local SEO for lawyers is quickly becoming an important part of a comprehensive digital strategy. The question to consider is are you prepared to capture more of these leads? Are you providing a superior customer experience to mobile leads?