Law Firm SEO
The success of your law firm depends significantly on how well you can attract new clients to it. You want people who need legal services to find your law firm easily and retain services from it. Utilizing SEO for lawyers can help you achieve your business goals.
However, their ease of finding you depends on in what manner you market your law firm to the public. Along with garnering favorable word-of-mouth reviews from existing clients, you also need to advertise your law firm online to bring in more clientele to it.
One of the primary ways that you may decide to market your law firm involves taking out advertising space on social networking sites like Facebook. This method can catch the attention of potential clients and encourage them to contact your law firm for services.
However, you can also benefit from using a marketing tactic known as Search Engine Optimization, or SEO, for your law firm. SEO for law firms involves achieving first-page search engine rankings for your law firm using resources like keywords that will make it easier for potential clients to find your law firm when they look on search engines like Google or Bing.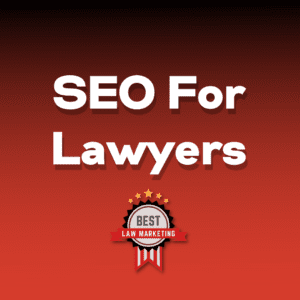 In fact, search engines remain the most popular resources that people use to search organically for services and products that they need online. When you use SEO for lawyers, you may get the highest return on your investment in this type of marketing. You also might attract new clients to your law firm than if you were to rely solely on social networking or word-of-mouth advertising from existing clients.
Moreover, out of all of the marketing resources that you can use for your law firm, search engine optimization is the only one capable of compounding the returns that you get from it over time. SEO content gives you three unique opportunities to grow your law firm's brand and reach more clientele.
It offers you the potential to rank more keywords for your law firm and drive more traffic to your law firm's website through organic search engine searches. You can also create high-quality content through link building and get your website to rank higher on search engines. Last, you can use SEO for law firms like yours to convert casual visitors to your website into paying customers and encourage visitors to trust and prefer your legal services over those of your competition.
Lawyer SEO Services
When you want to use lawyer SEO services for your law firm, you may find it best to rely on a professional and objective third-party search engine optimization firm for assistance. This tactic can be especially critical if you are entirely new to SEO for law firms and have no idea of what SEO methods to use in marketing your own law firm to the public.
Before you retain the services of an SEO firm, however, you need to outline what your goals are for using SEO to attract more clients and build your brand. For example, one of your top priorities might revolve around drawing more traffic to your website or converting more visitors into paying customers for your law firm. You may want to reduce the bounce rate on your website and make your website easier to find when people search for law services in your area.
Digital Marketing for Law Firms may include:
When you count these among your goals for marketing your law firm online, you need to use the services of an experienced SEO firm to create an engaging, relevant and faster website for you. You also may want it to create solid website copy that utilizes relevant keywords and includes calls-to-action that people will use to convert from casual visitors into paying customers for your law firm.
Last, you want your SEO law firm to get your website to rank as high as possible on first-page search engine results so it generates the highest amount of traffic possible. A high ranking will not only pull in more customers but also generate more revenue for your law firm and give you the best return for your SEO dollar.
With that, you need to choose an SEO firm that can prove it is capable of offering these lawyer SEO services for your law firm. You also want to choose one that uses data-driven methods, as well as solid key performance indicators like:
Keyword macrocosm
Organic sessions
Page load times
Conversion rates
All of which can make a significant difference in how well your website ranks online and how easy it is for your potential clients to find and access.
SEO for Law Firms
When you decide to utilize SEO for law firms on your own website, you may wonder what kinds of SEO resources to actually include in it. You may have no idea of what kind of SEO options are available to you or how to ensure they are used to your law firm's advantage on its website.
Your main focus when it comes to using SEO for law firms wisely should center on the actual content found on your firm's website. You need the content to be factual, updated, and relevant to the clients that you want to attract to it. If your law firm specializes in helping personal injury victims, for example, you need the content to center on detailing what services you can offer to your clients. You do not want to include content that revolves around bankruptcy law or contract law, for example.
You also need the content to feature aspects that can get it to rank higher in search engine rankings. These features include videos and graphics that are relevant to your targeted audience. They can also include backlinks and off-page citations that not only can land more people on your website but also give it more authority and authenticity.
Finally, you need to focus on the technical SEO for your website. The technical search engine optimization factors can include using relevant title tags that your targeted audience will find useful in finding your website in search engine rankings. It can also include making sure your website loads quickly and is easy for customers to access both on desktop or laptop computers and mobile devices.
Technical SEO can also include using a website structure that is useful and relevant to people who visit it. You want to design and use a website that will encourage customers to click through to other parts of the website and sign up for a newsletter, email subscriptions or purchase a product or service from it. You need the structure to be user-friendly, inviting and capable of retaining visitors' interest so they convert into paying customers for your law firm.