LOCAL SEO SOLUTIONS
While search engine optimization is undoubtedly vital for the effective marketing of your law firm today, you can specifically benefit more from what is known as local search engine optimization or local SEO. As its name implies, local SEO involves effectively marketing your business using search engine optimization so it reaches as many local potential clients as possible. It ensures local searchers can find your law firm and its website and prefer it over the websites and services of your competition.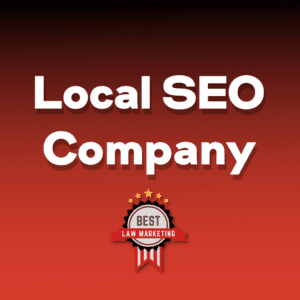 In fact, studies show that almost 50 percent of the population today uses search engines to find local law firms and other businesses. Word-of-mouth and social networking advertising still plays a key role in getting your brand's name out to the public. However, by and large, more people are using search engines to find law firms and legal services that they need.
With that, local SEO can make all of the difference in ensuring customers from the area find and use your legal services instead of those of your competition. It involves utilizing keyword phrases like "near me" or "near my address" to put clients in contact with the law firms that are closest to them.
Local SEO can be accessed through several online tools, primarily one that is known as Google My Business or GMB. This resource allows you to outline key information about your law firm and also include details like:
Your law firm's name
Law firm address
Your law firm's phone number
Google will readily display this information to people who are looking for local law firms in your area.
Another resource for local SEO for your law firm is Google's Local Pack. A search for a law firm in your area will trigger Local Pack into displaying your law firm's website to the searcher.
Your ranking on Local Pack will largely be determined by factors like the searcher's location, reviews for your law firm, and your law firm's relevancy to the specific query. To get the highest ranking, you must ensure your law firm's website is optimized for local searches and that it has a cohesive presence on local directories and legal websites.
LOCAL SEO AGENCIES
Once you can appreciate the importance that local SEO can have for your law firm and its website, you might wonder if you are capable of utilizing it to your advantage or if it would be better to use the services of one of the experienced local SEO agencies in your area. If you are somewhat new to local SEO or simply can admit that you lack the skill and time to manage your local SEO, you may find it best to hire one of the local SEO agencies for your law firm's local marketing.
When you use the services of a local SEO firm, you can benefit in a number of critical ways. To start, you may find that you can get your law firm's website to rank higher in search engine rankings and also be more visible to local searchers. This increased ranking and visibility can be vital for attracting the most people to your law firm and getting an edge over your local competition.
At the same time, an experienced local SEO firm can help your website become more accessible, relevant, and interesting to users and encourage a higher conversion rate. A high conversion rate plays directly into how well your website ranks locally among your competitors. When you want to achieve high first-page rankings on search engines like Google and Bing, you need to foster a high conversion rate for your website.
Finally, a local SEO firm can help your website gain authenticity and trust among local searchers. You need local audiences to trust and prefer your website to achieve a high search engine ranking. These qualities can come from including high-quality links to other legal websites on your law firm's site. It can also include posting reviews from established prior clients on your website.
These facets can be vital for establishing a high level of trust in and preference for your website. They can also ensure that your website outranks those of your local competition and is as visible as possible to people in your area who search for legal services and products that your law firm offers.
LOCAL SEO EXPERT
You need to use several important criteria to lead you to a local SEO expert who can provide the highest level of service and the most benefits to your law firm and website. It is vital that you search for and hire a local SEO expert who has previous experience building websites and creating content for not only law firms but specifically for law firms like yours and in your chosen specialty.
For example, if you own a bankruptcy law firm, you may only benefit so much from a local SEO expert who has created websites and content in the past for retail, healthcare or restaurant clients. This person may only be vaguely aware of how to market your law firm effectively and make it more appealing than your local competition.
With that, you need to look for a local SEO expert who has dealt specifically with law firm clients like you and has built law firm websites that achieved high search engine rankings. This person's knowledge and experience can be vital for generating leads to your website, encouraging high conversion rates, and getting a high ranking in local search engine results.
Further, you need to retain the services of a local SEO expert who is well-versed in Google's ever-changing algorithms that pertain to legal websites. These algorithms change at a moment's notice and can have major impacts on how well your website performs locally. You may not have the time or skill to research them on your own, thus making it vital that you retain a local SEO professional who makes it a priority to stay on top of these changing algorithms and knows how to use them to your advantage.
Finally, a trusted and a qualified local SEO expert will know what keywords and keyword phrases to use in the content for your law firm's website. He or she will know how to use those keywords and phrases to target specifically local searchers. He or she will also know how and where to place them in your website's content, so your website ranks as high as possible and is highly visual to people who search for the legal services your law firm offers.