LAWYER MARKETING
Search engine optimization can help you market yourself as a prolific lawyer who is more than capable and ready to assist clients with their legal needs. SEO for an individual lawyer can looked markedly different than SEO for a law firm, however. Instead of promoting and advocating for a corporate brand, you essentially must promote yourself and make your legal prowess and knowledge stand apart from other individual lawyers in your area.
With that, you need to use local SEO to showcase your trustworthiness and appeal to people who are looking for a lawyer in your legal specialty and in the area in which you practice. You must showcase your trustworthiness and go into clear detail about why local clients should prefer you over your competition.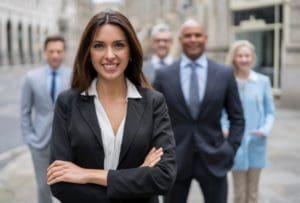 You can use SEO to achieve these important goals, all the while building an effective website that will draw visitors to it and encourage high conversion rates. To start, you can link your social networking sites, such as those that you may have on sites like Indeed or LinkedIn, to your personal lawyer website. You need to ensure your information and profile picture are updated so people know what you look like and what kinds of assets you can bring to their cases.
SEO for individual or private practice lawyers can also include showcasing your personal legal philosophies about helping clients and why it is important that they trust you with their cases. You can solidify their trust in you by including established client reviews on your website. These reviews can not only establish trust and authenticity in your website and you as a lawyer. They can also increase your website's ranking among your local competition and make it more visible in local search engine rankings.
Finally, if you are unsure of how to use local SEO to your advantage as a private practice attorney, you can use resources like Google Analytics. This resource can show you how your website ranks locally and what keywords or keyword phrases may be most relevant to it. You can use it as a guide to create the most engaging content for your website that will encourage higher traffic and conversion rates.
LAW FIRM MARKETING AGENCY
When your law firm's website is not ranked as high as you would prefer or it does not perform well among its local competition, you may need to rethink the manner in which you are marketing it. You might benefit more from hiring a law firm marketing agency to help you create a website that will perform better and get your law firm recognized as one of the most popular and effective in the local area.
In fact, a law firm marketing agency can help your law firm with critical marketing challenges like:
• Boosting your firm's name and recognition locally
• Generating more leads and traffic to your website
• Converting leads into paying clients
• Keeping your law firm foremost in the minds of your leads, clients, and referrals
• Outperforming your competition online
By sitting down with SEO professionals from a law firm marketing agency, you can identify both short-term and long-term goals that are realistic and achievable for marketing your law firm better.
This agency can assist your law firm with numerous critical tasks that can all lead to effective marketing for it. First, it can create a customized marketing strategy that might position your law firm's brand better in the local market. It may also create a customized SEO plan to use to build an even more engaging and relevant website for your law firm.
It can also expand the content found on your website to include helpful facets like webinars and videos. This renewed content can make your website rank better and help generate more traffic and leads to it.
Finally, the agency can analyze and track the metrics of your law firm's website to find out what features are performing well on it and what ones may need to be revised or eliminated. You can get a new website built for your law firm that makes better use of marketing opportunities that are available to you locally and can better ensure its success among your competition in the local market.
LAW FIRM MARKETING STRATEGIES
As the owner of a law firm, you need to figure out what marketing strategies will ultimately work for it and help lead the highest number of clients to it. When you figure out how to market your law firm effectively, you can save your law firm money and utilize resources that will actually pay off and give you a solid return on your investment in them.
Among the law firm marketing strategies you may use, search engine optimization, or SEO for lawyers, can be one of your most effective. SEO essentially involves getting your law firm's website to rank the highest in search engine results on Google, Bing, and other search engines. It involves using strategies like keyword and keyword phrase placement in your website's content, including videos and graphics on your website, and having high-quality backlinks to authoritative legal websites.
Of course, your law firm marketing strategies can also include using something known as Pay Per Click or PPC. Pay Per Click marketing involves running paid ads on your law firm's website. You can increase your website's visibility and increase more traffic to it by using PPC marketing. Because you pay a fee for each user that clicks on an ad on your website, this marketing strategy can be a bit higher priced than others. However, it can also garner you the fastest and best results for marketing your law firm's website.
Another marketing strategy that you can use involves marketing your law firm on social networking sites like Facebook. You can buy Facebook, Twitter, and other social networking site ads and have them displayed to users in your local area. This marketing tactic can help your brand build trust among local audiences, get your law firm's brand out in front of more people and help it gain a loyal following among people who need legal services that your law firm offers.
Finally, you can use a marketing strategy known as content marketing. Content marketing essentially involves anticipating your targeted audience's questions and concerns and providing the answers they are looking for online. You can tailor your website's content to answer these queries and generate more traffic to it. It is an effective way to build trust in your law firm and provide ready solutions for people looking for legal services that you offer.