Hyper-Local Search For Lawyers - Own Your "Backyard"
Localization of search results are a game changer for small law firms with a single brick and mortar location. Over the course of the past several years, the Google search engine result pages that display local searches have become increasingly complex and varied. What started with the roll out of Google's Blended Place Search that merged "regular" organic results with indexed local businesses from Google Places, has evolved into the Google Map Pack, Google My Business and Local Service Ads. WOW, a huge shift, but only the beginning with more to come.
Google My Business has further changed the local search game. It is imperative that local law firms pay extremely close attention to their local profile. However the biggest reason for change to the local search for lawyers landscape is being driven by the expansion of mobile and high speed internet speeds. As smartphones increase in number, their influence is being felt in the localized search engine results.  Many recently released studies point out the complexities of local search.
A report from Lindex about geo-ranking indicated that 69 percent of the time, if you rank in the top 30 for a keyword in one location, you won't rank for that keyword across all other locations.
Here are some other key findings from the Linkdex geo-ranking report:
Most affected sectors were tradesmen, restaurants and cafés, and professional services like lawyers.
As would be expected, geographical variability was highest when Google My Business pages are present in the results.
When Google My Business pages were not present, variability was still significant across head terms, long tail terms, and brand terms alike. So, geo-variability is not just about Google My Business, it's about a comprehensive local SEO strategy.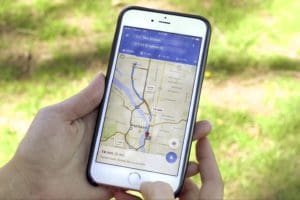 A well optimized Google My Business profile is imperative for law firms to to putting your law brand on the map. Google My Business listings display in all browsers for laptop, desktop, tablet and mobile search, maps, and the Map Pack. Your law firm brand can no longer afford to be complacent with a static listing, local search is now both dynamic and very technical.
An engaging Google My Business profile can benefit your digital marketing local SEO strategy in the following ways:
Outrank your competitors in local search.
Build the authority of your brand through user reviews.
Drive traffic to your website.
Convert more visitors into leads and clients.
Quick stats about local search use in the legal space:
72 percent of mobile search is local.
61 percent of local searches result in engagement.
50 percent of smartphone leads use a GPS/mapping app to find a law firm location.
It's no surprise that local SEO for lawyers is quickly becoming an important part of a comprehensive digital strategy. The question to consider is are you prepared to capture more of these leads? Are you providing a superior customer experience to mobile leads?